Sunday 18 November 2018 | 4:30-8.30pm—Glenorchy Art and Sculpture Park
Across the Coals
Following the launch of Julie Gough's new work, HUNTING GROUND incorporating Barbecue Area, Across the Coals presents new, site-specific work by four early-career artists which further interrogates the space the public barbecue occupies in our collective memories, social landscape and natural environment.


Adam James
Hidden Egg (Qvevri, Amphora)

Adam James will be making a kimchi (of sorts) to be buried in the ground on the waterside. Working with local ceramicist Georgie Vozar to build a vessel which will be filled with vegetables and local ingredients including kelp, sea lettuce, saltbush and pepperberry. Adam has made the salt from local sea water, and has dived and foraged for the other local ingredients. The ingredients are prepared on site then transferred to the qvevri, which is sealed and buried – to be dug up in a years time.

Theia Connell
FREE #democracysausage*

FREE #democracysausage* is a performative sausage sizzle at GASP!'s public barbeque. Connell weaves a complex scenario that questions the use of the barbecue for political ends, provoking us to question in turn what we might be willing to give away for a snag. (vegan and GF options included)

Richie Cuskelly
So The Dolphin Ate The Man

A one act play centred around a bloke at a family barbeque who, after being spotted discarding a plastic tinnie 6-pack holder without breaking the rings by his young niece, gets interrogated about why he doesn't care about dolphins… as well as most of the other things around him.

Leen Rieth
You and me [5]

Leen Rieth will use a high pressure water hose to clean the exterior and interior of the barbecue spaces. Over the duration of the performance, our attention will shift between the artist, the act of cleaning, the barbecue and GASP. Multiple perspectives can be accessed depending on how we pay attention at any particular time. The barbecue can be an artwork and part of an art institution, a symbol of nationalism and colonialism, a common structure in Australian parks, a public place for communities to meet and so on. Art costs more than sausages, more than women, more than everything.



Across the Coals from Constance ARI on Vimeo.


---


Wednesday 24th October—Sunday 28 October | Mawson's Place and Waterside Pavilion, Hobart Waterfront



Step into Tiyan Baker's immersive installation and delve into the nuances of Tasmania's tourism industry. Through documentary-style interviews with tourists, locals, artists, hospitality workers and academics, Baker's work takes a close look at the blissful indulgence of Tasmania's arts tourism and its impact on the state. The work explores the positives, negatives and complexity of our state brand of world class arts experiences, premium food and drink products, luxury accommodation and pristine nature, against a backdrop of declining political and fiscal support for the arts in Australia.

ABOUT TIYAN BAKER

Tiyan is a Sydney-based artist who practices across video, sound, installation and performance. Her practice explores the emotional experience of the self as embedded in greater socio-political, cultural and environmental contexts. Learn more about Tiyan Baker here.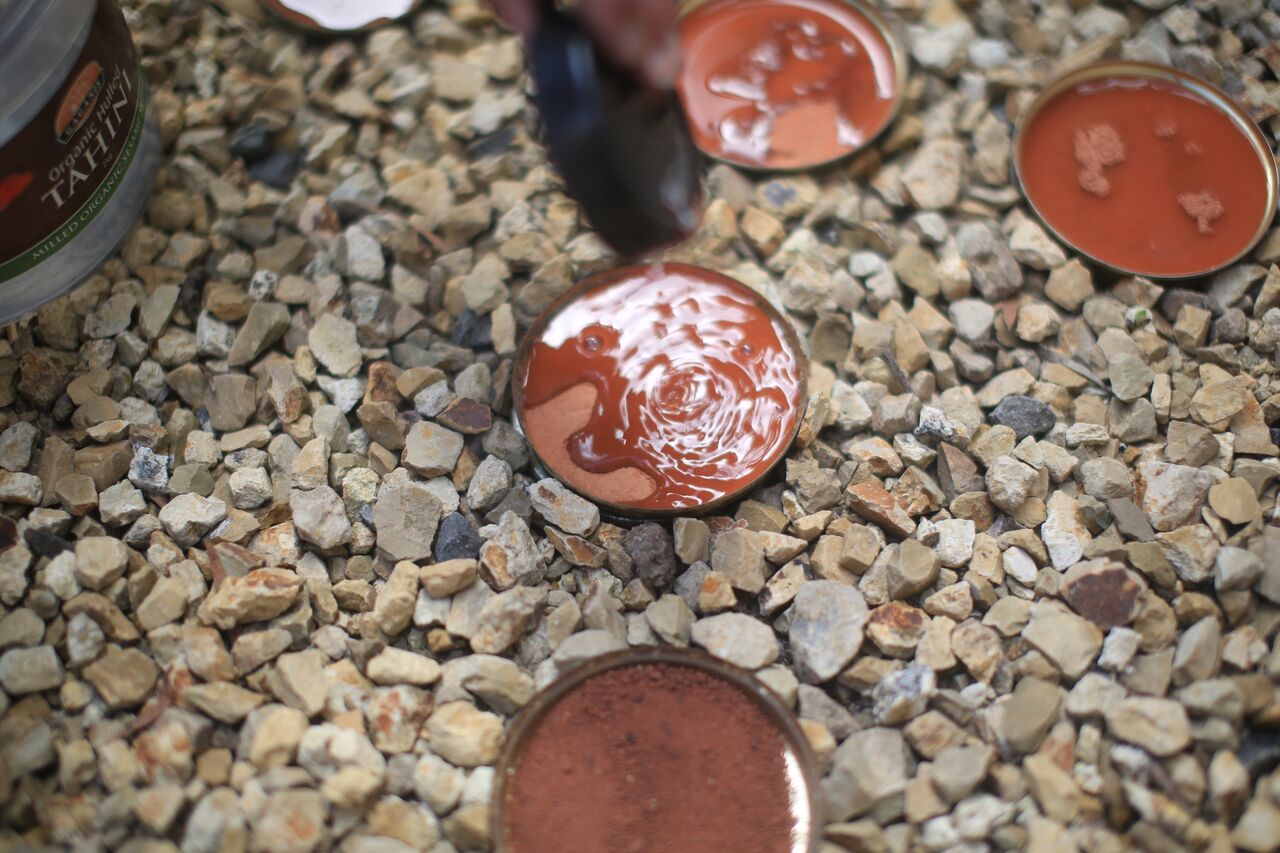 Photographs by Josh Quigley




they tell you which rock they were and how they travelled so far brings together four women: Alana Collins, Jessica Quinnell, Gabbee Stolp and Caitlin Fargher (curator). These artists look to the past to untangle intricate narratives in poetic and sensitive ways within the confines of Kelly's Garden, delving deep into the emotional and the elemental. A conversation emerges between the materials and personal histories, highlighting the importance of the personal within historical narratives of settlement, trauma and impact on landscapes.


By recognising that each chosen material has its own lineage and timeline, the artists weave a web of stories. It is within this silky, sticky web that we can begin to speculate on ways of understanding where we stand in relation to the place (nipaluna, muwinina Country) on which this space (Salamanca/Hobart) is built.

This project is part of the Artist/Curator Project in partnership with CONSTANCE and Salamanca Arts Centre, made possible by the Australian Government's Regional Arts Fund, which supports the arts in regional and remote Australia.
Sunday 10 June—Sunday 24 June, 5–9pm | Old Good Year Warehouse, corner of Argyle and Bathurst Street

Image: Carolee Schneemann, Fuses, 16mm film. 18 min, still. Courtesy Electronic Arts Intermix (EAI), New York.



Dexter Rosengrave & Patrick
Maria Blackwell & Karen
Samuel Mountford & Kristy
Tess Campbell & Michael

In 1963, the colour of the Risdon Prison walls led the Mercury newspaper to dub it 'The Pink Palace'. Despite its slow fade into beige, the nickname stuck.

Over the past six months, four Tasmanian artists have been working in collaboration with four Risdon Prison inmates to create a series of new video works examining time on the inside, as part of a project facilitated by Constance ARI in association with Dark Mofo 2018. The results include a potato currency, virtual inmates, endurance performance by proxy and a horse named Salvadore.









Wednesday 24th October—Sunday 28 October | Victoria Gunpowder Magazine, 20 Carriage Drive, Domain TAS 7000


Carolee Schneemann, Fuses, 16mm film. 18 min, still. Courtesy Electronic Arts Intermix (EAI), New York





An exhibition and performance space of raw states, as achingly personal as it is dissonant and uncertain. (Eco)sexuality, identity, spiritual force, a lyrical and narrative reflection on nature, society, its slippages, its resistances. Exploring subconscious and connective forces through the reflective offering of art and the creative mind.





December 7th, 2017 — February 10th 2018 | IMAS Mawson exhibition space, MAS Reception and IMAS Wet Laboratories, 20 Castray Esplanade, Battery Point




Pony Express



Curated by Kira Askoroff

Pony Express collaborating with Professor Beth Fulton

Ken + Julia Yonetani collaborating with Assoc. Professor Julia Blanchard
Selena de Carvalho with Dr. Alistair Hobday
Welcome to the Anthropocene is an art/science collaboration between Constance ARI, The Centre for Marine Socioecology (CMS), The Institute for Marine and Antarctic Studies (IMAS) and The Commonwealth Scientific and Industrial Research Organisation (CSIRO) in Hobart, Tasmania.


CONSTANCE is an off-site, project based A.R.I based in nipaluna / Hobart. CONSTANCE is focused on creating critical dialogues and engagement within, and beyond, the local Tasmanian arts community through supporting experimental and critical praxis.

Facebook >>

Instagram >>








CONSTANCE acknowledges and respects the palawa people as the traditional and ongoing owners and custodians of lutruwita. We pay our respects to elders past, present and future, and acknowledge that sovereignty has never been ceded.

Constance ARI 2018 program is assisted
through Arts Tasmania by the Minister for the Arts..