CONSTANCE is an off-site, project based A.R.I (Artist Run Initiative) based in nipaluna / Hobart. CONSTANCE is focused on creating critical dialogues and engagement within, and beyond, the local Tasmanian arts community through supporting experimental and critical praxis.

We create paid opportunities for early career arts practitioners to develop and present innovative and experimental work in varied settings. CONSTANCE provides artists with critical support, resources, and audience engagement to realise quality projects.

CONSTANCE projects are situated in, and responsive to, a wide variety of sites. Our projects have occupied historic buildings, vacant real estate, underground spaces, city streets, arts festivals and partnered with conventional galleries.

CONSTANCE's site-less model minimises ongoing administrative expenses, allowing us to position artist remuneration and production quality as the priority of all our projects. Furthermore, this model allows CONSTANCE to be flexible and adaptive, pushing the organisation into ambitious, new territory with every show.

Constance ARI works across Country cared for by the Palawa of lutruwita and the Tasmanian Aboriginal Community. We acknowledge the Traditional Custodians of Country throughout so called Australia, as well as First Nations people from elsewhere, and their deep connection to the lands, skies and waterways over which sovereignty was never ceded.

We pay our respect to all Elders; we are grateful for their continued sharing of knowledge and Culture.


CONTACT US:
constance.director (at) gmail.com

ABN: 90 032 660 228



PROPOSALS:
Do you have a project you'd like to propose to Constance ARI? Email us with the below information.

We accept expressions of interest from experimental and contemporary artists and curators year round. Submissions can be from individuals or groups, in any medium, may be developmental in nature, or may involve a future body of work. We are open to ideas that may be presented in the off site, online, or part of a public program.

Things to keep in mind

The exhibition program is developed at least 12 – 18 months in advance, but if there is a specific reason why a project has a particular timeframe you can let us know in your submission
Projects will be developed in close contact with our board
Budgets available to support projects are limited and will be negotiated with the board, or the applicant will need to seek funding

Eligibility

We welcome EOIs from artists in diverse communities – if you have any questions or require assistance please contact us. We will preference artists and curtors who work within or collaborate with Tasmanian practitioners in some capacity.

Submissions

A one page description of the concept, proposed artwork/s and the curatorial framework of the exhibition/project. You may like to consider where and how the work will be installed
One page CV (pdf) per participant
Visual support material:

Up to 12 clearly labelled images as a single pdf OR a URL to sound/video support material of no more than 5 minutes
Support material in the form of relevant published writing by the applicant can be included as a single PDF or URL (optional)
THE BOARD OF CONSTANCE 2022-23

Priscilla Beck
Co-Chair

Priscilla Beck is an artist and writer living in nipaluna/Hobart. Priscilla completed her Bachelor of Fine Arts at the Queensland College of Art, Brisbane in 2011, and received Honours (first class) from the University of Tasmania, Tasmanian College of the Arts in 2016. Priscilla was a founding director of Addition ARI, and is currently Chair of the Board of Constance ARI. Priscilla was an Artist In Residence at UTas in 2017 and a studio resident at Contemporary Art Tasmania in 2018/19. Her work has been shown both locally and interstate. Priscilla's art practice is open-ended and speculative, she often works within set frameworks to create subtle, material-based installations. Each work is deeply connected to process and place, and uses art practice and systems as the 'site' within which to respond. Her practice is complemented by a portfolio of critical and creative writing and facilitating projects in the community.

Nadia Refaei
Co-Chair

Nadia Refaei is an artist based in nipaluna/Hobart. She received a Bachelor of Arts in 2014 and Bachelor of Fine Arts (Honours) in 2015 from the University of Tasmania and has exhibited locally and interstate. Drawing on both personal and broader histories, Nadia uses photography, installation and video to explore cultural tropes and intersectional identity from a de-colonial perspective and as an Arab-Australian. Alongside her arts practice, Nadia is a freelance creator and has worked in migrant support, event management, and communications, including most recently at Contemporary Art Tasmania and Dark Lab.


Chris Arneaud-Clarke
Treasurer

Chris Arneaud-Clarke is a writer and critic. He has performed at LanFranchi's Memorial Discotheque, Melbourne International Arts Festival and Melbourne Now, and his writing has appeared in Art + Australia magazine.



Hannah Foley
Secretary

Hannah Foley is an interdisciplinary artist and researcher based in nipaluna/Hobart. Her process-driven practice considers the phenomenological and relational body; incorporating performance, installation, and sound, each work begins with embodied processes of gestural and lived investigation. Having completed a Bachelor of Fine Arts (Honours) at the University of Tasmania, she is now undertaking doctorate research, drawing on hydrofeminist theory to generate modes of performing and scoring encounters with more-than-human bodies of water.



Dominique Gartlan
Public Officer

Dominique is a qualified lawyer living in nipaluna/ Hobart. She was admitted to the legal profession in 2020 and then commenced an associateship with the Honourable Justice Estcourt of the Supreme Court of Tasmania while also volunteering at the Tasmanian Refugee Legal Centre. Dominique intends to develop a legal practice centred on the arts, artists and local community.


Caitlin Fargher
Caitlin Fargher is a multi-disciplinary artist working in sculptural installation and curating. Graduating with First Class Honours in Fine Arts/Media Arts at UNSW Art and Design in 2017 in Sydney, she has returned home to be based in nipaluna/Hobart. She works out of Good Grief Studios. Her work is created through an embodied practice that explores histories, sites, ecologies and memories. Gardening, cooking, environmental systems, historical research and family narratives inform her materials. Alongside her arts and curatorial practice, Caitlin is on the board of CONSTANCE ARI and Treasurer at Good Grief Studios, and currently undertaking a Masters of Teaching (Secondary, Art).


Sharifah Emalia Al-Gadrie
Sharifah Emalia Al-Gadrie is a multidisciplinary artist, curator & community development worker based in nipaluna (Hobart), lutruwita (Tasmania). Her creative practice is responsive and explores belonging and cultural heritage in contemporary Australia. She draws on personal experience and understanding of diasporic identity and cultural dislocation to engage with broader conversations on the same. Her curatorial practice is primarily concerned with addressing gender and cultural diversity imbalances in the arts sector.


Nani Graddon Nani Graddon is an emerging artist based in Nipaluna (Hobart) who is currently working out of Good Grief studios. She holds a bachelor of Fine Arts with first class honours from UNSW Art and Design, and has worked collaboratively in Sydney, Nipaluna, and Glasgow, organising, and exhibiting in group shows.


Theia Connell
Theia Connell is a producer, curator and dormant artist based in nipaluna/Hobart. Theia is involved locally and interstate with a range of arts organisations, from major festivals (RISING) to grassroots artist-led orgs (Visual Bulk, Next Wave).


Sophie Ambler
Sophie Ambler has eight years of experience working within the events industry, not only at home in Tasmania, but interstate and internationally. She is passionate about diversity and fostering local opportunity. Her label, Kitsch Events, is known for projects such as The Sh!tshow and Project: Art House.


Maria Blackwell
Maria Blackwell is a visual artist based in Hobart, Tasmania. She began her Fine Art studies in Dublin (Colaiste Dhulaigh) before relocating to Melbourne to complete a BA in Fine Art (RMIT). She received a scholarship to study Photography and Painting in Mexico (UDLAP), and in 2015 completed Honours in Painting at the University of Tasmania.Her work explores the strange ebb and flow between displacement and belonging. She is interested in people, the construct of memory, and personal narratives informed by location and relocation. She experiments with communicating these stories through visual material and sound.


Grace Herbert
Grace Herbert is an artist and facilitator based in Hobart, Tasmania. She studied a Bachelor of Fine Art (Sculpture) at RMIT University and Honours in Sculpture at the University of Tasmania. Her work uses a mix of installation, sculpture, video, photography and digital media to examine practices of material production, architecture, construction and ownership of property. Grace has exhibited her work in solo and group shows and festivals locally and internationally. Grace's individual arts practice is co-constituted by curatorial and arts writing activities. Alongside her arts practice, Grace is the Co-Founder and Facilitator of Visual Bulk and Co-Founder and Facilitator of HOBIENNALE.


Nadege Philippe-JanonNadège Philippe-Janon is an emerging artist based in nipaluna/Hobart.
Nadège frequently works at the intersections of science, nature, culture and personal narrative to question our physical and learned ways of perceiving, often critiquing anthropocentric relations with the more-than-human world.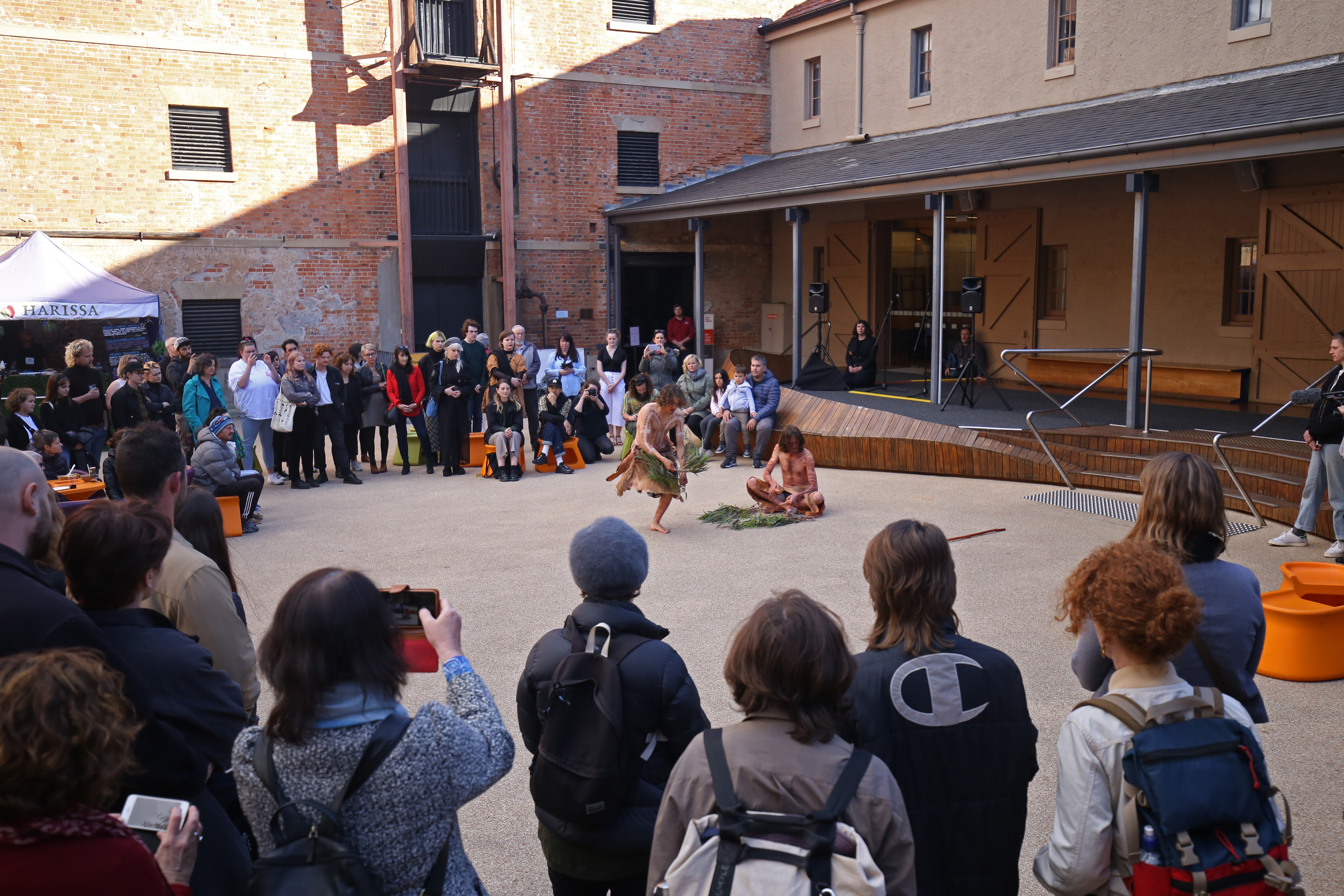 Constance ARI works across Country cared for by the Palawa of lutruwita and the Tasmanian Aboriginal Community. We acknowledge the Traditional Custodians of Country throughout the so called 'Australia', as well as First Nations people from elsewhere, and their deep connection to the lands, skies and waterways over which sovereignty was never ceded. We pay our respect to all Elders; we are grateful for their continued sharing of knowledge and Culture.

CONSTANCE ARI IS ASSISTED THROUGH ARTS TASMANIA BY THE MINISTER FOR THE ARTS


CONSTANCE has a long history in the nipaluna/Hobart arts community. It was initially founded as Inflight ARI in 2003, and operated under that name across two different rented gallery spaces until 2013.

Inflight ARI rebranded as CONSTANCE in 2013. The re-branding was designed to communicate a significant shift in programming, specifically a new emphasis on off-site exhibitions in addition to its gallery program.

In 2015 CONSTANCE moved from its rented gallery space on Goulburn St to a site-less model.


We are very excited to say that we have recovered our old website. From now on all our pre-2016 projects can be found at: http://constancearchive.dreamhosters.com/