In late July the much anticipated (at least, by the Southern Beaches Community Facebook Group), Sorell bypass opened. As part of 5 years ongoing roadworks trying to get around the fact that tens of thousands of people need to cross two two-lane land bridges to get from the South East of Tasmania to Hobart each day, cutting out the two-block city of Sorrel has taken a few minutes off the trip. But this isn't the sad story of a town bypassed by a highway, only to shrivel and die. Sorell is one of the fastest-growing towns in Tasmania – it's only a 20ish minute drive from Hobart (depending on the traffic), and while for many lifelong Tasmanians this is a world away, necessity has made many more open to the commute.

So Sorell finds itself growing and, inevitably, changing. From somewhere on the way to somewhere else; to a place that people live out of choice, as families fill out rapidly built houses on its ever-expanding and subdividing edges. These new people will need and want things that don't exist there currently – restaurants, furniture stores, boutiques and, hopefully for those of us who live nearby and would love something to do at the weekend, art and culture.

It's against this backdrop that the Sorell council asked Constance ARI to commission two works from Southern Beaches artists that have something to say about the city. And, as so much of Sorell's identity (at least from the outside) has developed around it being 'on the way' to somewhere else (the East Coast, Eaglehawk Neck, Port Arthur), both works circle around ideas of impermanence and liminality – but in tender, and thoughtful ways.

Mauricio Alejandro Arias has painted a spiralling, intricate mural on the side of the Sorell Men's Shed. This is a condemned building; sooner or later it will be destroyed. Mauricio lived homeless in Sorell for a few years, and found the Men's Shed as a place of connection, both with the people and the place building gardens around the town. The mural is described as shell-like, representing the feeling of protection it provided Mauricio, in a time when he avoided social interaction and wanted to stay in his own shell. There is also a parallel to be drawn to the inevitable insularity of small-towns; protective of insiders, but hard to crack for those who weren't born and bred in the area. But Sorell is getting too big for its current shell, and the commissioning of these works represent, at least on the council's part, an openness, and a willingness to embrace new ideas. The tarmac-coloured design is also reminiscent of the cul-de-sac roads of the new developments nearby. The dark grey roads are always the first to appear, a stark empty labyrinth before the familiar yellow brick houses take shape.

While we don't know Mauricio's experience, many people in Hobart have found themselves unhoused over the past decade, as the housing demands far out-weigh supply. AirBNB is so much more lucrative than renting out an investment property, and the housing prices seem cheap to people with interstate salaries, now able to work from home. These developments and subdivision offer one solution: all these roads will soon have houses, and all these houses can be homes for families. When the new replaces the old, it's hard to know what to keep. Half of the charm of Tasmanian is its historic buildings, left standing because no one cared enough to knock them down as they did in other cities. Now we've caught the attention of the rest of Australia, and that can't last. While demolishing the Men's Shed, and with it, Mauricio's artwork, is a loss, it also represents the hope that something else is being built. A more welcoming community, a refuge for more people, a home.

The second artwork, Words of Love, is an invitation to do something that not many people come to Sorell to do; take a walk, and look around. Sorell is a car town; the ever-present smell of exhaust mingling with the competing Maccas and KFCs – dogs are driven to the beach to be walked, or taken on the purpose-built loops next to the river. Joey Gracias's work is 60 individual messages made of magnetic letters, stuck to metallic surfaces around the town. They are not glued, just magnetised, so can be moved by any bored teen or passer-by. There's no map showing where each message is, for the diligent attempted-art-appreciator to tick each one off the list. In fact, it seems they're not really for the attempted art-appreciator at all. I dragged my dog around for several streets, and found only 6 of the 60. These words of love are for the bored teen or the passer-by, the person smoking outside Coles or waiting for the bus. Whatever the circumstance, finding them gives your heart a little squeeze. Either with accomplishment at having 'found an art', as mine did, or presumably at the incongruous strangeness of the crooked 'but beautiful' on an electrical box or 'ILY' stuck to a storm drain. A lady walking from her car to the ATM watched me change 'you / beat / I / can/ feel/heart' to the fairly uninspired 'beat/ your / can' (the rest of the magnet words pushed to the side). Maybe she went back to look – and started noticing the rest of the messages as she went about her daily life. That's the kind of hopeful thought these works spark.

As much as these works comment on, and are for, Sorell, as an outsider I also felt something more universal in their messages. Feeling of liminality, of change and uncertainty, are everywhere. We are living in a reality where the way we have lived forever is destroying the actual planet. What is the point of art-making, of mark-making, in times like these? Is it to comment on what we're losing, like Mauricio's 'Fields' or to make us pause and look closer at the everyday, mundane, beautiful and unbeautiful things around us before they're gone, like Gracia's 'Words of Love'? Like we're all murals on the sides of buildings about to be demolished, but right now we're here. Texting 'ILY'. Beating our cans.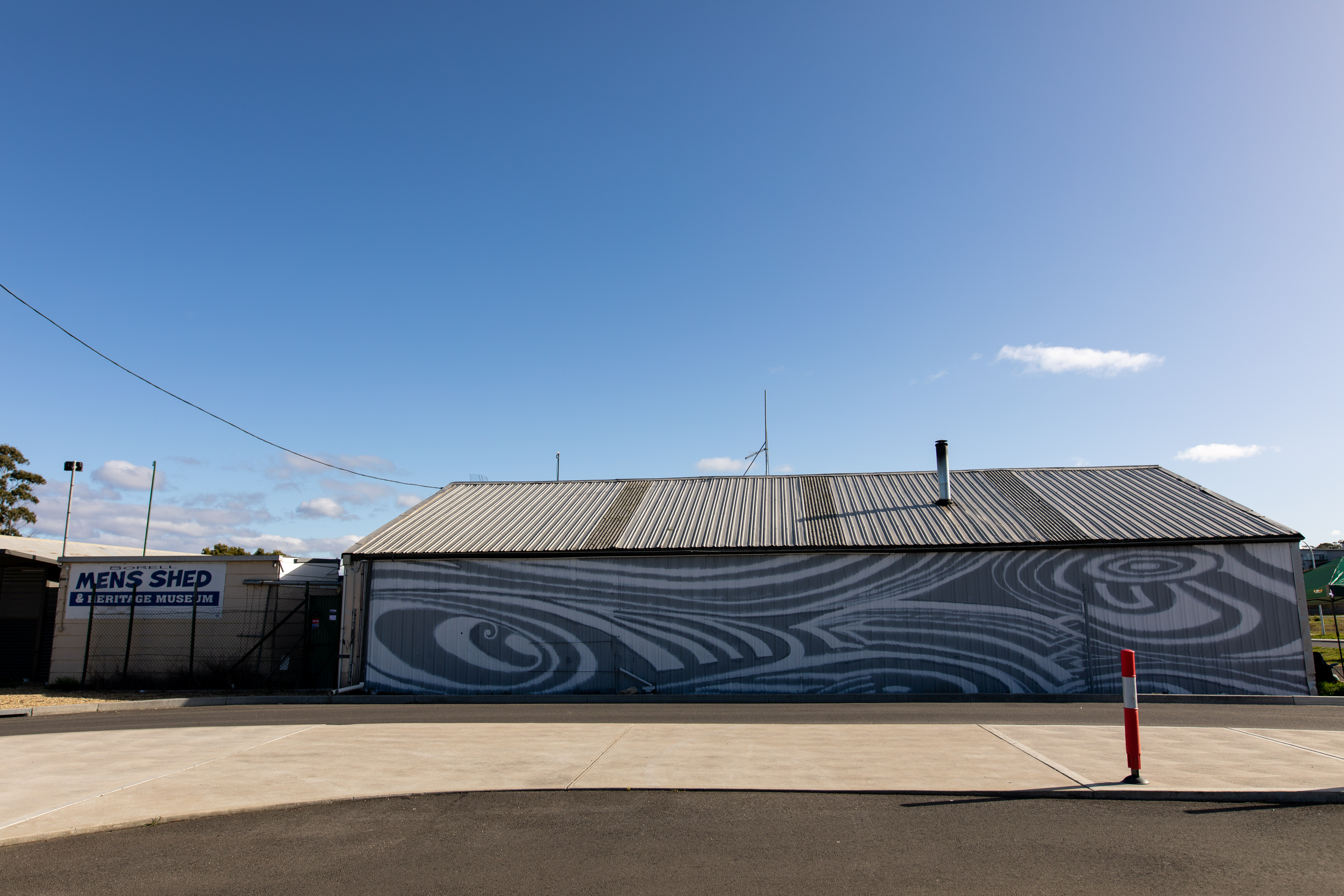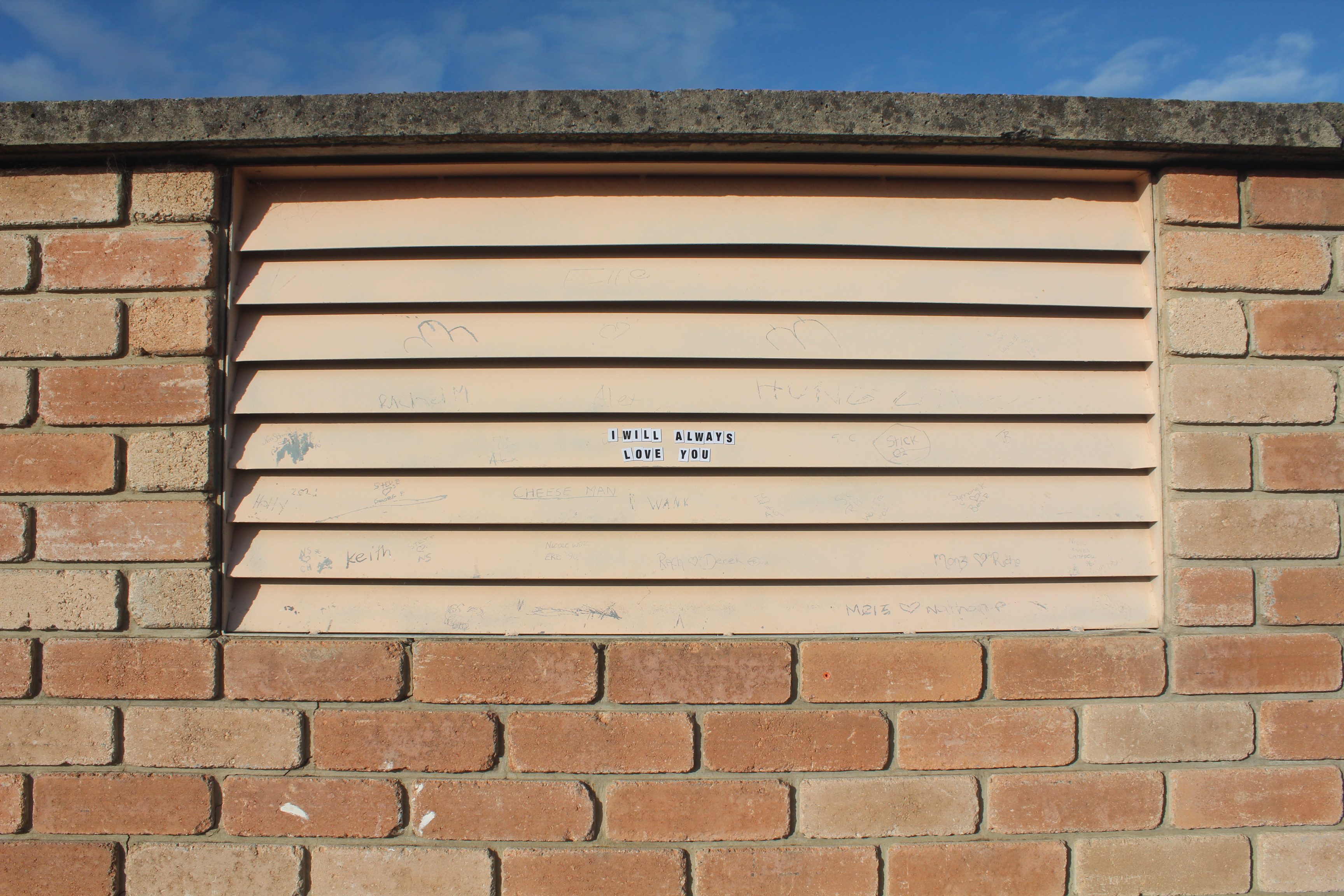 Images by Cassie Sullivan






Constance ARI works across Country cared for by the Palawa of lutruwita and the Tasmanian Aboriginal Community. We acknowledge the Traditional Custodians of Country throughout the so called 'Australia', as well as First Nations people from elsewhere, and their deep connection to the lands, skies and waterways over which sovereignty was never ceded. We pay our respect to all Elders; we are grateful for their continued sharing of knowledge and Culture.